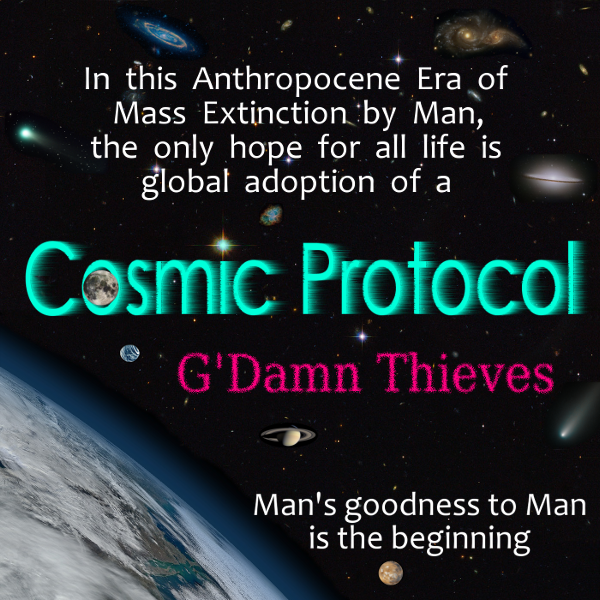 Copyright 2015-2016 Cosmic Protocol
Brooklyn, New York City



"G'damn Thieves" is our first release, released June of '15, where we wanted to talk about aspects of the ills of society, by way of the different types of thief that plague us. This is within a hard core, yet slow, groove in the genres of Funk and (good) Disco.
---
G'damn Thieves
In us they don't see people, they see prey
They don't apply themselves, they want from us everyday
They scope you out, they case the joint
Fateful distractions are often just the point
If on the street, or in an office, it's all the same
That unbelievable mortgage deal made you fair game
Lose that house, they make more money, it's up their sleeves
Like their street kin, they're nothing more than g'damn thieves
Some government regulators work for whom they regulate
Some bankers lend a nation it's own money to circulate
Muggers rob you, cut you, throw you in the leaves
All equals in the gang that we call G'damn Thieves


---
Tenor saxophone, vocals, keyboard:
Alto saxophone, keyboard:




R. Gregory (Cosmic Rey)
Orlando McAllister




Composition
Keyboard & virtual synth bass:
Horns, virtual strings, virtual drums & virtual shaker:
Lyrics:


Engineering:
Recording facility:
Cover art concept & design:

R. Gregory, O. McAllister
R. Gregory
R. Gregory


R. Gregory
O. McAllister, R. Gregory
R. Gregory

This was composed, recorded and engineered from the middle of 2013 to early 2015, in Brooklyn, New York.

Saxes and a keyboard were used. Synth bass, strings, drums and shaker were provided with Ableton Live.

Thanks to Emilie Gregory and R@y Gregory Sr., greatly beloved parents, for everything; and to Ramona Gregory for her insights regarding this work.